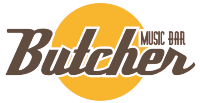 BUTCHER MUSIC BAR
Blues, Jazz, Funk, And more!
OPEN
Tues`Thurs: 1700`0300
Fri`Sat: 1700`0500
Sun: 1700`2400
(Closed Mondays)
Table charge 400 yen/person on non - music days
Wefre really sorry, but most of us here canft speak English so we asked someone to translate this for us. Butcher isnft like most live music bars in Japan, which usually charge the bands money for the gchanceh to play. We want to support the bands that come out to play for us, but we also have bills to pay. So, we came up with a different solution. The bands that play on our regular live music nights pay no money to us, and we have no cover charge. Instead, we ask that the customers tip the band at the end of the night when we pass the box around. We generally ask people to throw in 1,000 yen, but if you had a good time, feel free to throw in more. ALL the money will go to the band, and whatever you can give, they will love you for it.
Thanks for coming to Butcher! Have a great night!
---
0426 Spring Garden Bld. 3F
3-2 Naka-cho Hachioji city, Tokyo
---
Drink Menu
Bourbon
Jim Beam, Early Times
500 yen
Jim Beam Black, Wild Turkey 8 Year
600 yen
Makerfs Mark
700 yen
-
Scottish Whisky
Ballantinefs 12 Year
600 yen
Glenfiddich 12 Year
700 yen
Laphroaig 10 Year
1,000 yen
Macallan 12 Year
1,200 yen
-
Other Liquors/Liqueurs
Jameson
500 yen
Canadian Club
500 yen
Jack Danielfs
600 yen
Yamazaki 12 Year
1,600 yen
XO
1,000 yen
Jose Cuervo Tequila
500 yen
-
Other drinks (Cocktails also available!)
Zima
600 yen
Umeshu (plum liqueur)
500 yen
Shochu (straight, on-the-rocks)
500 yen
Wine (Chardonnay/Cabernet Sauvignon)
Glass
600 yen
Half-Bottle
1,800 yen
Bottle
3,200 yen
Sparkling Wine/Champagne (per bottle)
Pompa DfOr
4,800 yen
Moet Chandon Brut
10,000 yen
Moet Chandon Rose
15,000 yen
-
Beer
Draught beer
500 yen
Ebisu (bottle)
600 yen
Heineken (bottle)
600 yen
Corona (bottle)
700 yen
Guinness (bottle)
700 yen
All-Free (non-alcoholic, bottle)
500 yen
-
Soft Drinks
Cola
400 yen
Ginger Ale
400 yen
Tonic Water
400 yen
Orange Juice
400 yen
Grapefruit Juice
400 yen
Lemonade
400 yen
Tomato Juice
400 yen
Oolong Tea
400 yen
Coffee
400 yen
Cafe au Lait
400 yen

---

Food Menu Also Available. Ask for details!